Photo credits: Forbes
As sentiment declines, the macroeconomic environment continues to have a negative impact on cryptocurrency. Cardano seems primed for a significant price move, despite the fact that several market participants seem to be waiting on the sidelines.
Cardano Keeps Consolidating
Over the last three weeks, the price of ADA has decreased by around 17%. Looking at its daily chart, the downturn happened when the hypothesized descending triangle formation, which had been forming since early May, was rejected. Now that Cardano is approaching the pattern's peak, a significant increase in volatility is expected.
The triangle's Y-axis height shows that ADA could experience a 44% price change following a clear close above or below support. However, it is crucial to wait for a decisive breach of either the $0.41 support or the $0.48 resistance level.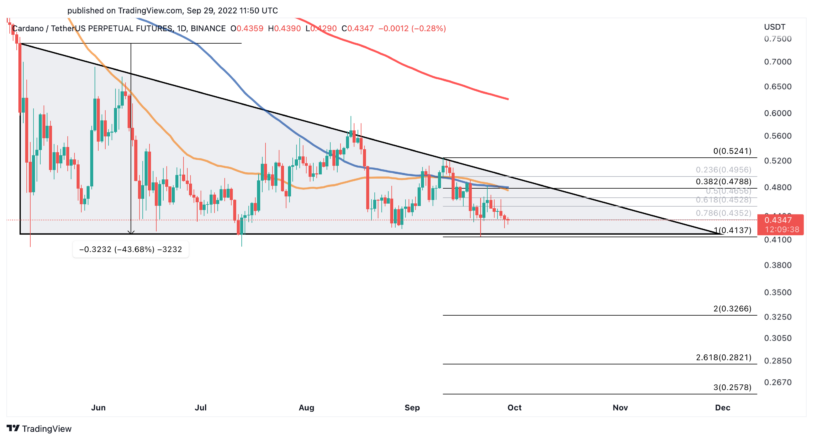 Source: TradingView via ADA/USD daily chart.
A bullish breakthrough might happen if there is a surge in buying interest that causes Cardano to move above the triangle's hypothenuse at $0.48. If this were to occur, ADA might obtain the momentum it needs to soar toward either its May high of $0.69 or its 200-day moving average at $0.63.
Losing the $0.41 level as support, however, would lead investors to reduce their long bets, which would put downward pressure on Cardano. In this negative scenario, ADA might restart its downward trend and, in the event of a sell-off, set its sights on $0.33 or $0.25.
The uncertain prognosis for Cardano suggests that traders are holding back and awaiting a clear signal before opening any positions. The Crypto Fear & Greed Index has now entered the "extreme fear" range as a result of the continued pressure from global macroeconomic conditions on the cryptocurrency sector. If these circumstances continue, Cardano may find it challenging to make an upside breakout.
2cash Money for Everyone
2cash is a FinTech development firm that provides unlimited trading and transactions through the AC20, plus pays rewards to all AC20 members when they invite others. In addition to the AC20, members can also enjoy ProTrade, Crypto-Commerce, BillPay, and other features available in the 2cash wallet.
For more information, visit www.2cash.io and create a free account using the promo code of the person who invited you. If you have found 2cash online, we will provide you with a promo code. Should you need assistance or have any questions you can chat with us or visit the 2cash Help Centre.